Hydraulic Pressure Sensor
| | |
| --- | --- |
| Payment Terms: | T/T,L/C,D/A,D/P,WU |
| Place of Origin: | Zhejiang, China (Mainland) |
Product Detail

1.The proliferation of imported high-precision silicon core body
2.Range can be programmed to change
3.-10 ℃ to 70 ℃ temperature span compensation





Brief introduction:
EPS-002 series of hydraulic pressure sensor by the load cell sensor (also known as pressure sensors ), is composed of three parts , the measurement circuit and process connection. It will load cell element sensor to feel the pressure of gases, liquids, and other physical parameters change into a standard electrical signals (such as 4 ~ 20mADC, etc.), alarm device, recorder, adjust the secondary instrument to measure supply instructions, instructions and the process of adjustment. The hydraulic pressure sensor, hydraulic pressure signals to the electronic equipment, and thus put pressure on the computer display.
The principle is roughly as follows :
Hydraulic pressure into mechanical signals produced by pressure or other media and then become current ( 4 - 20mA) such as electronic signals through the display to set and adjust so that the system reaches the set requirements . Pressure and the size of the voltage or current into a linear relationship is generally positive relationship between the transmitter output voltage or current with increasing pressure.

Ordering:


Input signal

Connection type

Pressure portthreads

Addition

A= 4 ~ 20mA

A1=0~ 20mA

B=0 ~5V

D=1-5V

E=0-10V

H=HIRSCHMANN plug

C=Cableline outlet

GX=Aviation plug

Ga=G1/4 thread

Gb=G1/2 thread

Na=1/2 NPT thread

Nb=1/4 NPT thread

Ma=M20X1.5 face seal thread

Mb=M20X1.5 waterline seal thread

U=7/16 -20UNF threads

La=Gauge with LED

Lb=Gauge with LED and 2 control points

Va=10-30VDC

Vb=220VAC/VDC

G=Gauge pressure.

A=Absolute pressure

S=Sealed gauge pressure

M=Intrinsically safeexplosion-proof Exia IICT6

Ua=0.1%F.S

Ub=0.25%F.S
Specification:
Item

Description

Pressure range

Within 0.1MPa ~ 100MPa

Overload pressure

2 Times the ratedpressure

Damage pressure

4 Times the ratedpressure

Accuracy

±0.5%F.S

Stability

Typical value: 0.1%F.S/Max. value: 0.25%F.S

Operationtemperature

-30℃ ~ 85℃

Compensationtemperature

-10℃~70℃

Compatible media

All corrosive mediacompatible with 1Cr18Ni9Ti

Output signal

2- lines: 4~20mA

3- lines: 0~20Ma/0~10VDC

Power supply

2- lines: 10~30VDC

3- lines: 12~30VDC

Load resistance

2- lines: (U-10) / 0.02(Ω)

3- lines and 4-lines : Elec. Current: (U-12) / 0.02(Ω)

Voltage:>100K Ω

Insulation

>100M Ω at 50V

Electricalconnection

Thewater outlet ( five waterproof sealed), shell protection IP68

Shell protection

IP67

Response time

≤10ms

Pressure portthreads

M20×1.5,G1/2,G1/4,NPT1/2, NPT1/4

Form of pressure

G= Gauge pressure/ A= Absolute pressure / S= Sealed gaugepressure

Electromagneticcompatibility

Electromagnetic radiation: EN50081-1/-2;

Electromagnetic sensitivity: EN50082-2
Dimensions: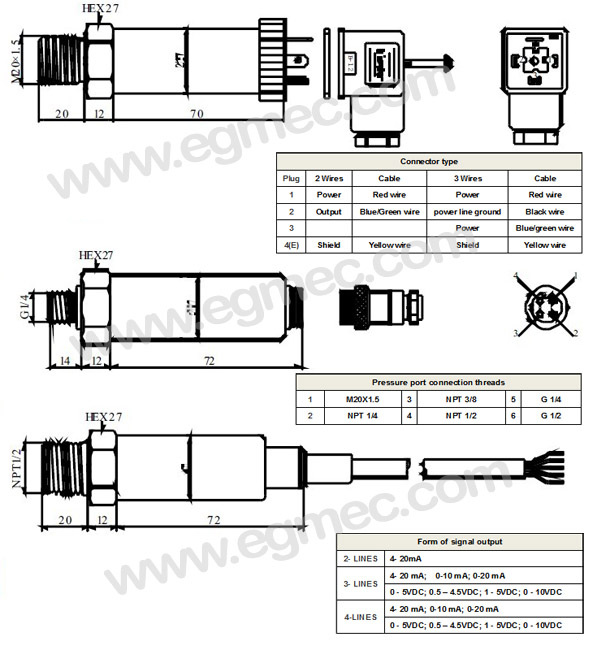 Connector type

Plug

2 Wires

Cable

3 Wires

Cable

1

Power

Red wire

Power

Red wire

2

Output

Blue/Green wire

power line ground

Black wire

3

Power

Blue/green wire

4(E)

Shield

Yellow wire

Shield

Yellow wire
Pressure port connection threads

1

M20X1.5

3

NPT 3/8

5

G 1/4

2

NPT 1/4

4

NPT 1/2

6

G 1/2
Form of signal output

2- LINES

4-20mA

3- LINES

4-20 mA; 0-10 mA; 0-20 mA

0- 5VDC; 0.5 – 4.5VDC; 1 - 5VDC; 0 - 10VDC

4-LINES

4-20 mA; 0-10 mA; 0-20 mA

0- 5VDC; 0.5 – 4.5VDC; 1 - 5VDC; 0 - 10VDC
Related Search
Find more related products in following catalogs on Hisupplier.com